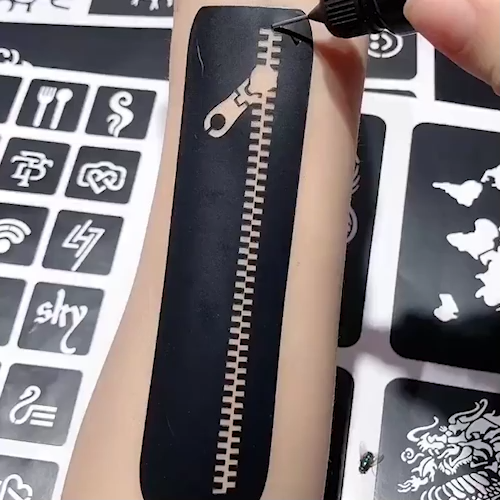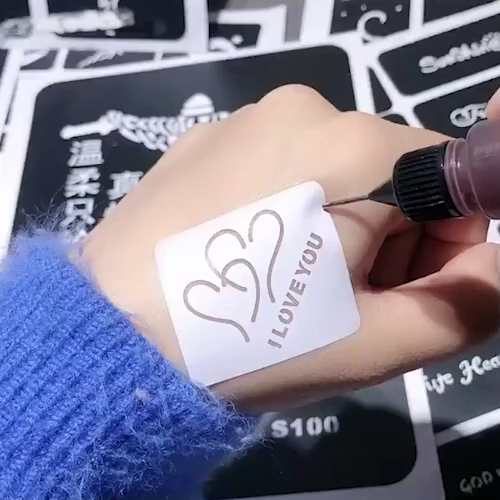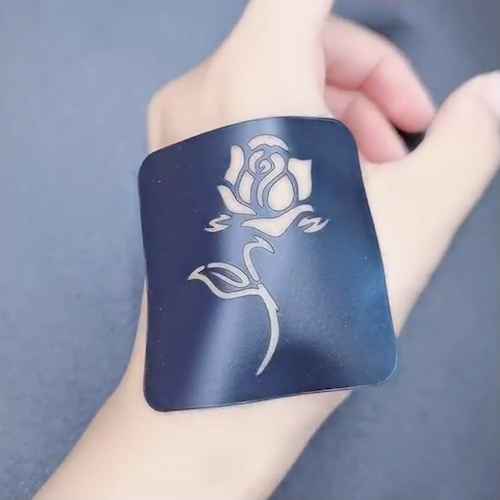 These tattoo templates are just for those who wants to have fun and play with. There 7 colors ink including black, red, blue, green, dark blue, purple and brown for whatever color and style you want. In this combo, you can choose the tattoo styles you like and the ink color you enjoy.


High-quality and Skin Safe: The tattoo sheet is made of high-quality material that you can use many times without damaging it. And the fruit tattoo ink is made of skin-safe ingredients that won't do harm to your skin.
Stay Longer: This fruit tattoo ink makes the tattoo stay on the skin for a longer time, usually 7-15 days
Reusable: These tattoo ink and tattoo sheets are reusable so that the designs you love can stay longer and many times on the different body parts which makes it more fun.
More Fun and More Style: There is more fun when using the tattoo sheet and the tattoo fruit ink that you can keep the tattoos on the skin for a longer time which makes it look like real tattoos but without the pain and problem to remove them.
Super Realistic Tattoos: These tattoos that are made from the tattoo sheet and the tattoo fruit ink are supper real that people can't tell.
Size: 29cm X21cm /

11.42" X 8.27"

Ink Weight: 10ml / 0.34floz


How to Use?

Step 1: Clean your skin and keep it dry first.
Step 2: Stick the tattoo template sheet on the skin tightly.
Step 3: Apply enough tattoo ink on the skin inside the tattoo template and wait for 30-60mins until the ink gets dry.
Step 4: Remove the tattoo template slightly and slowly from the skin and you are done.


How to remove?

Method 1: Apply some baby oil on the tattoo for one minute and use a towel to wipe it off if one minute is not enough, can use it for a longer time until the tattoo gets off.

Method 2: Use makeup remover or alcohol on a cotton pat and then put it on the tattoo. Gently wipe off the tattoo or you can wait for a few seconds until the skin is wet with the makeup remover.